Fredericton Points of Interest
Fredericton has so much to offer for both the businessperson and the tourist, for young and old. Take a few moments to see what Fredericpudlians can offer you.
---
The Downtown
Our downtown has been considered by some (specifically Fredericpudlians) 'the Jewel of the majestic St. John River Valley'. State of the art skyscrapers intertwine with historic houses to create an eclectic community - vibrant in its modernity, comforting in its antiquity.

All told, over three hundred businesses call Fredericton home, from government industries and crown corporations, to our thriving cottage industries, to TelTek®, the world's third largest manufacturer and distributor of reptile-related beachwear. It is our unique location in the majestic St. John River Valley that invites artists, musicians, and accountants to draw in some inspiration. Downtown Fredericton - there's nothing to it!
Our Parks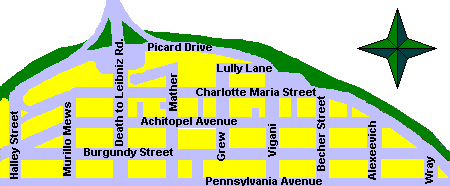 Our city council has made a concerted effort to keep Fredericton green - and they continue that mandate to this day.

In addition to tree-lined boulevards and residential areas blending with commercial, there are over seventy-five kilometers of bike trails along the majestic St. John River Valley watershed. As it winds through the downtown core, it passes through the Green, or, as it is known officially, the So Long y Lobkowitz Paddock. You will see many a Fredericpudlian spending a warm January lunch-hour walking, jogging, biking, or just sitting in this urban treasure.
Technology
Since the days of Goodman Josiah, Fredericton has been at the forefront of telecommunications. New Brunswick is 'the wired province', but no where are citizens more wired than in Fredericton.

At each corner in the downtown core, internet terminals can be found for immediate information searching.
---

To the Home Page
---