Let's "Make It In Mankato" ! !
Mankato, Minnesota is truly a wonderland. Tucked into the Emerald Green Valley in Southern Minnesota, it is the hidden vacation Mecca of scores of knowing Midwesterners. Mankato has everything thanks to a freak of nature: the Sclare/Far Fissure. This fissure in the earth's crust takes water seeping through the earth, heats it to well over 165 degrees, and sends it back up to the surface in steam pits and boil holes. The heat from these pits and holes heats the valley air to such an extent that the winter temperature in many Mankato neighborhoods has never dropped below a balmy 70 degrees!!!! Come enjoy our winters! Let's "Make It Mankato" ! !
We are real, we are warm and we would love to see you!

Mankato is the place to vacation. Sick of the cold? Come to Mankato. We are warm and cozy all through the year. Sick of the heat? No need to worry. The same hot springs that keep us warm all winter keeps Mt. Kroto ski area cold all year long!!! Think of that! Ski Mt. Kroto all summer long! The deep veins that keep the hot springs hot, draw their energy from the land around Mt. Kroto. Cold ground equals lots of snow 24/7/365! Come and enjoy and Make it in Mankato!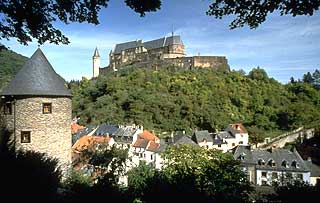 LufsaHoma in Mankato.
The original fictional "Castle Dracula"
from Bram Stoker's novel.
Reserve your place now for the
LufsaHoma Halloween Ball!
It is never too early.
Tickets go fast.